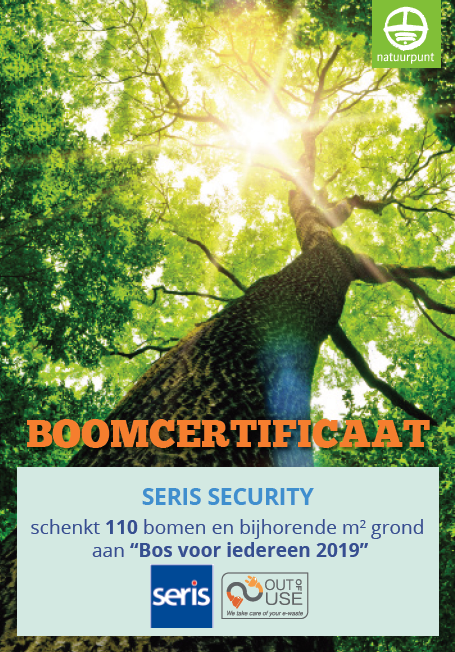 A forest for everyone ! 
In March this year SERIS Academy, SERIS Logistics, SERIS Monitoring and SERIS Security collected old ICT material from the ICT department. 
Our partner Out of Use collected three containers or 0.8 tonnes of ICT material from our head office in Diegem. 
The SERIS management decided to donate the proceeds of the material via Out of Use to Natuurpunt, which resulted in a donation of 110 trees and corresponding land to "Bos voor iedereen 2019" (a forest for everyone 2019). This initiative once again emphasises our Corporate Social Responsibility!
The trees will be planted on Sunday 24/11/19.  

In total it concerns two plots in the heart of the valley of the Edegem brook situated on the border of Kontich and Edegem. 
The first part will be planted in an area of 26,000 m² forest and 5,000 m² brook (source: Natuurpunt). A brook is a low lying plot of land that overflows regularly. 

Those who wish to take part in the planting of the 110 trees with a delegation of the management are welcome at Edegem on Sunday morning 24/11/19 at 10!
More info can be found on the Natuurpunt website via the following link: Where will we help plant a forest?
(Suitable clothing such as boots is recommended)