SERIS academy is now also your knowledge centre 
The Legislation on Private and Particular Security, remain continuously and fully informed!
The Legislation on Private and Particular Security is often not an evidently understandable and applicable matter. Numerous implementing orders, interpretations and additional information ensure that this legislation is always in motion. On the other hand, people who work in the safety sector today are expected to have more specialised skills. Skills that aren't always a statutory requirement, but can offer intrinsic and commercial added value.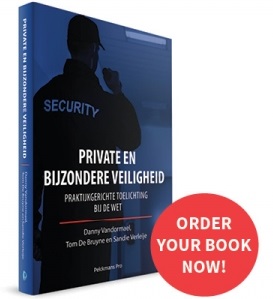 This is why our SERIS Academy works with specialists from the field, theory is one matter, but the objective should be that these skills are an important and realisable trump in practice. As a knowledge centre, SERIS Academy and its team of criminologists are constantly investing in knowledge of legislation and important updated knowledge. Due to this important investment, the SERIS Academy can optimally inform you and guide you in all your safety issues. 
As a result of the new legislation, our Academy published an extremely practical and useful book, called "Praktijkgerichte toelichting bij de wet". If you buy this book you will also receive a personal free access code to the e-Academy where you can consult all updates on the law. This enables you to carry out your security responsibilities in the most correct and complete way.
You can order this handbook via our SERIS online shop => www.seris-shop.be
Customised flexibility and service
Every year, the SERIS Academy introduces its permanent training calendar. However, our first priority is informing and assisting you as personally and adequately as possible, according to your security needs. With regard to location as well as statutory and non-statutory recommended training, we are happy to offer you a tailored proposal. Finally, each company is organised and structured differently and a tailored proposal offers the best result.

Our Academy is based on 5 cornerstones:
1. Compliance and reliability

The prevailing legal standards are an absolute guideline when developing a training course, but there is more to it than that. Our experts follow all new developments and adjust their training courses accordingly. This not only gives our courses up-to-date content, it also ensures that they correspond with the actual reality on the ground.

Furthermore, we also subject our courses, teachers, infrastructure and educational material to continuous evaluations. As such, we can continue to improve our service and warrant maximum transparency.

4. Training courses geared to current practice

Our training courses combine the relevant legal requirements with the actual social climate. In this way, you will at all times have followed the legally compulsory training but also learn security insights that respond to the actual social trends.

 

 

2. Solution-oriented approach

Legal compliance is one thing, your personal situation another. Our excellent teachers love this confrontation with reality and the day-to-day practice. They listen to your specific needs and will adjust their courses accordingly. Additional benefit: it helps them to stay innovative and creative.

5. Possibilities for support and subsidies

You are not alone in this. The government provides financial support through the "SME Portfolio" for self-employed persons. Employees can benefit from the Flemish Training Cheques. Unemployed persons looking for a job can call upon the VDAB (Flanders), FOREM (Wallonia) or ACTIRIS (Brussels).

3. A team of very experienced people

We commit ourselves to assign the right teacher to the right course. You will be taught by an authority in his or her field who makes sure you spend your time usefully and purposefully. More than once, you will look back on what you've learnt with us.

 
CONTACT US: TEL. +32 (0)2 745 37 03 OR VIA EMAIL.