On Monday 18 June, Deputy Prime Minister and Minister of Internal Affairs, Jan Jambon, went on a working visit to SERIS.
The Minister was welcomed by CEO Danny Vandormael, Peter Verpoort, Division Director Guarding & Monitoring and Christophe Voets, Division Director Technology.
Jambon got to know the international and national structure of SERIS and -more specifically- the operation of the SERIS Academy, SERIS Monitoring and the SERIS Security dog masters.
"Now that the new law on private and particular safety is a fact, and the cooperation between public and private security is gaining momentum, it is of major importance that the authorities involved get to know how we work in great detail. This is why this visit is extremely important to SERIS and we are grateful that the Minister has taken the time for this", says Danny Vandormael.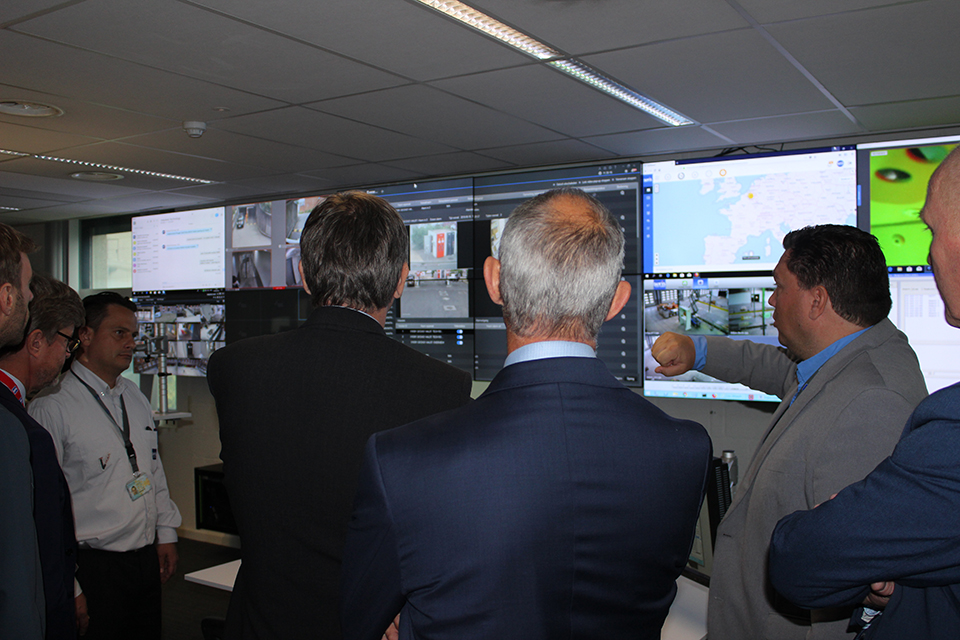 Training, innovative technology, remote follow-up and security specialisations are at the centre of private security 
It is no coincidence that the visit emphasised training, innovative technology, monitoring and security guard specialisations. Crime is always pushing back its frontiers, which private security must therefore also do. Aiming for maximum safety, as well as increasing the sense of safety, is achieved through a total security approach, tailored to the needs of the customer and the site.
"It was important for SERIS to indicate that we are constantly investing in fighting today's crime, but even more in that of tomorrow. I personally find the new legislation a major step forward, but it could and should have gone even further. And with what we managed to demonstrate to the Minister, we proved that private security can take on many additional responsibilities", continues Vandormael.
The tour, an interesting track!
After an introduction about the structure of SERIS, Minister Jambon was a guest of the SERIS Academy. Here he was briefed in detail about statutory training as well as about how we train our security guards on a technical and human approach. The previous Rambo image of security guards was exchanged for a more human approach some time ago. Communicating, helping to think along with the customer and taking responsibility that is adapted to the situation are just a few examples of this. The Minister was also introduced to the functioning of a very special type of guard dog, namely the explosive detection dog.
"We also had the opportunity to illustrate the endless possibilities of technology and monitoring. Our innovative video wall enables us to work preventively and -if necessary- determine criminal activity very quickly. All with respect for legislation on the right to privacy. Our completely newly furnished command vehicle (CP_Ops) was also a pleasant surprise for the Minister. This enables SERIS to guarantee an extremely detailed safety check on location", continues Vandormael.
Ready for even "deeper collaboration" between private and public security
"In any case, SERIS is ready for an even more elaborate collaboration with public security and will continue to invest in this. Minister Jambon's visit is a major recognition for us, but also a chance to appeal for starting up the next steps in our cooperation", Danny Vandormael concludes.