SERIS receives RSO label from the Belgian government
Ship and port security expertise is officially recognised
The Federal Public Service for Mobility and Transport is responsible in our country for checking implementation of the ISPS regulations. ISPS stands for International Ship and Port Facility Security Code or the legislation applied for the security of ships and ports. The recognition of SERIS as a Recognised Security Organisation (the label was awarded after an audit) is proof of our knowledge and expertise in security which conforms to the ISPS protocol. There are only two security companies in Belgium that have been awarded this label, one of them is SERIS.​
More recognitions for Seris Academy and Seris Security
SERIS Academy is recognised for its training course Port Facility Security Officer, an obligatory position within every ISPS port facility.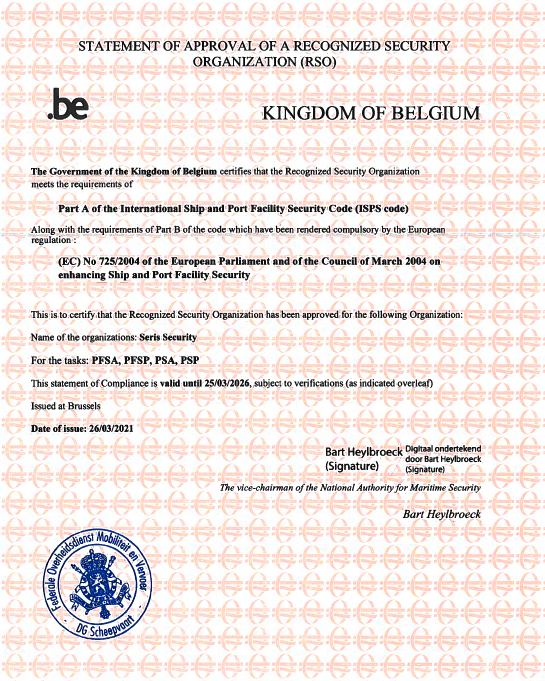 SERIS Security is recognised for:
Conducting Port Facility Security Audits (PFSA)
Drawing up Port Facility Security Plans (PFSP)
Carrying out Port Security Assessments (PSA)
Developing Port Security Plans (PSP)
These recognitions apply for a period of five years. 
This recognition means that not only is SERIS authorised to carry out security assessments, but also the company can pass on this specific knowledge to others via the PFSO training course offered by SERIS Academy. The fact that SERIS is given responsibility for the security of a sensitive site like a port on behalf of the Belgian Government is a fine testimony to our expertise. 
Would you like to work as a security officer at a port?