Rapid digitilisation means more cyber crime, but are we ready for it? 
A few weeks ago, colleague Stijn Verheyden lit up the show at Shopt-IT, the pinnacle of all things IT in the public sector. Stijn was one of the speakers at this digital event and inspired the public with his insights into cyber crime. That topic is as current as ever in times of rapid digitalisation! Here are the five things which we recall from Stijn's presentation:
Cyber crime is big business! 
Last year alone it accounted for 1.7 trillion euros, plus the number of victims, but that figure continues to rise. Since the start of the pandemic, it has risen by no less than 300%.
We're not secure enough against cyber crime.
At present, 77% of companies have no cyber incident response plan and 82% of them have no cyber skills.
Phishing
Phishing is now one of the most common forms of cyber crime and is growing annually by no less than 65%. In the last year, most companies (75%) have been victims and 90% of cyber attacks on corporate networks were the result of phishing.
Spam mails
Besides phishing, we are also seeing more ransomware, malicious attachments sent via spam e-mails to affect the entire system. Social engineering, where casual talks or meetings yield corporate information, is also being used more. 
Detection is the best defence
By raising awareness of phishing and other practices, companies and individuals are less likely to be trapped.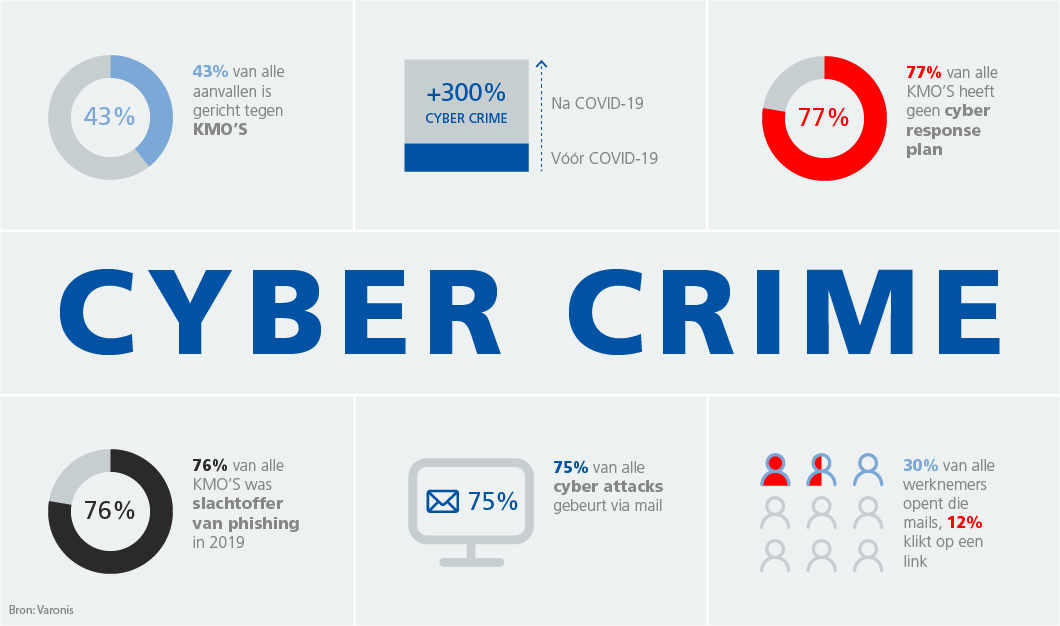 You can check the web site of V-ICT-OR for current information on cyber crime.