Is your home protected yet?
It's a sad truth that house fires claim dozens of human lives in Flanders every year. Human suffering that can, however, be easily prevented. Especially at night, smoke development can have an asphyxiating effect if you are not alerted on time. Do not be mistaken: most victims are the result of poisonous smoke, not of the fire itself. This is why the Flemish government obliges the presence of smoke detectors in all private homes as of 1 January 2020.
A local alarm, and then what?
Your own safety naturally comes first. When your smoke alarm goes off, you in most cases have enough time to bring yourself to safety and to alert the emergency services. But who alerts the fire brigade when you are no longer capable or if no one is home?
This is why you should rely on an alarm system that automatically and directly alerts the emergency services when necessary. Your fire or smoke detector can be linked to a recognised emergency centre. This of type detector can even be connected to your existing alarm system and alert you when a fire has broken out in your home, and of the current actions.

Combine an alarm system that protects you against fire and burglaries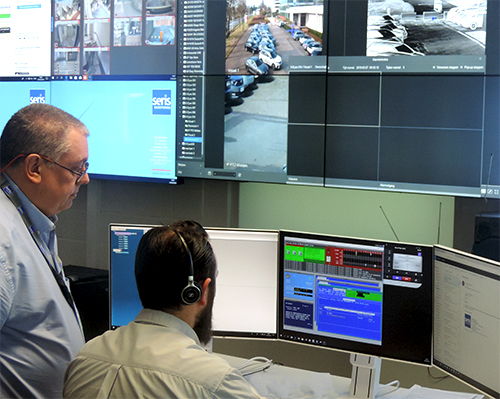 Your alarm installer will advise you in the best choice of component and can then organise a notification of your smoke detectors and/or alarm system via a connection to the SERIS Monitoring emergency centre. 
SERIS Monitoring is a licensed emergency centre that can assist you in case of fire or other alarm situations such as burglary. Linking your fire and smoke detectors and/or alarm system to a recognised emergency centre is currently not obliged, but it is recommended for the following reasons:
 
24/7 surveillance of all your alarm signals
Managing your data via our "My Comfort Place Pro app" for IOS and Android
Efficient and immediate alarm handling to the right services
Priority call to emergency and law enforcement services
Combinable with view via camera images available afterwards 
Guidance of the intervention services in case of escalation  
Automatic and transparent reporting 
Advantage in your burglary and fire insurance
Don't wait any longer, contact us!
In panic situations this system can save your life and that of your nearest and dearest. Why tempt fate unnecessarily?
Contact us today via contact.monitoring@seris.be for obligation-free tailored advice.