Social distancing oplossingen op maat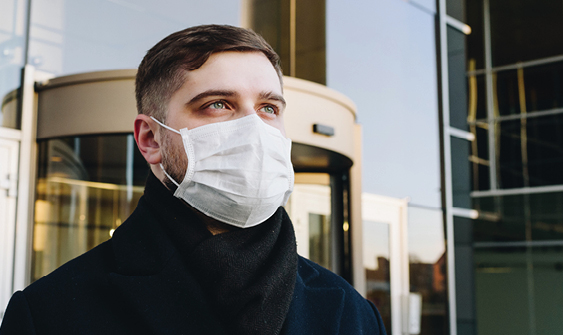 Situations where it is necessary to keep a safe distance from each other are going to be part of our future. A pandemic can emerge suddenly, and in that case it is essential to react appropriately.
That's why SERIS has developed some social distancing solutions which can be tailored as required. All our departments are involved in this. The various services are complementary and together they form a total security concept, including keeping a safe distance for individuals in various situations.
INTELLIGENT ENTRY CONTROL*
Technological aids can help to regulate entry control in order to prevent the spread of a potential virus as much as possible. 
This ranges from keeping track of the number of persons in relation to the available space to checking certain features and tracing the people with whom a certain person has had contact. If necessary, the security guards who are present are called upon to take action.
Real-time occupation 

Counting the number of persons present (in and out)
Automatic closure or opening of entry doors
Notifications via a green or red screen
Computerisation for reports, notifications, etc.

 
 

Temperature controle

Taking body temperature
Both free flow and individually
Notifications via a green or red screen
Computerisation for entry, notifications, etc.

 
 

Surgical mask detection

Face screening
Detection of whether or not a person is wearing a protective mask
Signal for security guards in case of problems  

 
 

Queue detection 

Detecting the length of a queue
Detecting the social distancing of people in the queue
Alert security guards if intervention is required

 
 

Contact tracing & tracking

Following people via cameras
Identifying specific contacts if further follow-up is required

 
 

Crowd Control

Monitoring beaches, squares, high streets, shopping centres, and company premises
Detecting group formation
Notification via audible messages, reports, etc.
Technological equipment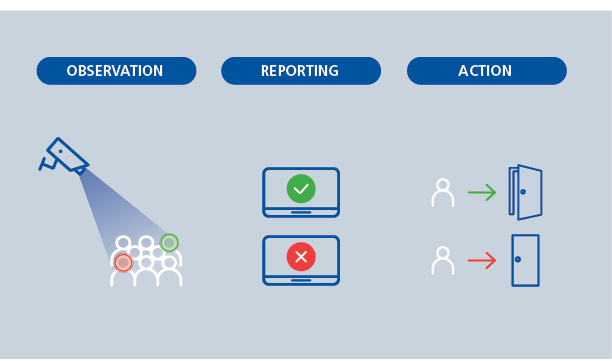 Technological aids to achieve the above aims comprise:
Contactless entry control tools
Intelligent network cameras (On the Edge – Centrally) thermal or otherwise or a combination
Video Management Systems (VMS)
Video Content Analysis (VCA)
Reference points (black body)
Visual and audible feedback (digital signs)
Tailored work, depending on your needs and scope
Do you want to protect your business and maintain social distancing when the government requires it?

Contact us for a tailored solution via:
SERIS Technology                         
tel +32 (0)16 68 98 68 or mail us 

SERIS Security
tel +32 (0)2 254 28 11 or mail us

* The use and application of these systems should be in accordance with applicable data protection laws.